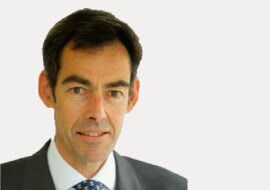 Mark Cumberlege
FOUNDING PARTNER
Mark Cumberlege is a Partner with Fidelio Partners. Mark brings to Search a deep understanding of the value of process and sets up Fidelio's searches to succeed with robust project management. Mark works with clients across a range of sectors and executive roles.
Prior to Fidelio, Mark spent five years in senior management roles within Executive Search working with clients across multiple sectors and geographies. As a management consultant from 1995 to 2005 Mark focused on delivering growth and performance management solutions initially with Bridgewater, a Bain spin-off, and latterly focussing on operational strategy and change management. Mark's clients were primarily multinational organisations.
Mark also has managing director experience of companies in the consulting, media and manufacturing sectors and has led start ups, turnarounds, acquisitions and disposals. The common theme of Mark's professional career is a passionate interest in how individuals shape high performing businesses. Mark completed his studies in agriculture and has maintained an ongoing interest in agribusiness.