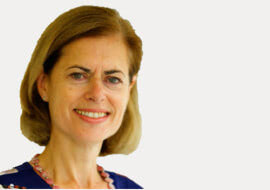 Gillian Karran-Cumberlege
Founding Partner
Gillian Karran-Cumberlege leads Fidelio Partners Board Practice. Through Search and Development, Gillian supports Chairmen and CEOs in building effective Boards and Executive leadership teams which drive value for stakeholders and shareholders. In this context Gillian is actively engaged in promoting greater Board effectiveness through increased diversity. Fidelio is accredited by the Hampton-Alexander Review for its contribution to increasing gender diversity on Boards and leadership teams 'Beyond FTSE350'. Gillian is also a member of the German- British Chamber of Industry and Commerce and a fluent German speaker.
In addition to her executive role with Fidelio, Gillian is a Board Member of the German British Forum. She also is a member of the Chapter Zero UK Steering Group supporting Boards to tackle climate change. Previously Gillian served as an Independent Board Member of Jaguar Land Rover India and a Member of the Harvard Business School Alumni Board (2015-2018).
Prior to founding Fidelio Gillian held senior executive roles within some of Europe's leading corporates; this included the role of Global Head of Investor Relations / Capital Market Communications for Volkswagen AG (2000 – 2007) sitting on the Group Governance and Marketing Committees – the most senior female executive globally. Previously Gillian had enjoyed a highly successful career in banking for example heading Group Investor Relations for UBS (1998- 2000). She started her career in Banking Supervision with the Bank of England.
Gillian has an MA in History from Trinity Hall, Cambridge, and attended the Harvard General Management Programme.