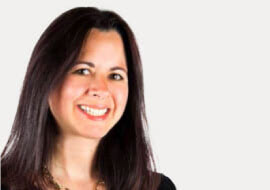 Danielle Neben
SENIOR CONSULTANT
Danielle Neben has a 23-year international career in financial services and works closely with Fidelio on promoting excellence in shareholder engagement and IR at Board and Executive level.
Danielle is also a Member of the Board at FKA (the Association of Women Business Leaders in Iceland), a Member of the Board of the Investor Relations Society of Iceland and an independent consultant.
Danielle is a former Member of the Board of Directors at Landsbankinn, a leading Icelandic financial institution, where she chaired the Strategic Development Committee and was a member of the Audit Committee. Before joining Landsbankinn, Danielle worked at HSBC from 1993 to 2013, including 16 years in their International Management programme in four continents.
Some key roles were Member of the Management Board at HSBC Trinkaus & Burkhardt (Intl.) SA in Luxembourg as Chief Operating Officer and Investor Relations Officer in London during the Financial Crisis up to the £12 billion rights issue.
Danielle holds a Bachelor of Commerce degree with a major in Finance and a minor in German from McGill University in Montreal, Canada. She is native in English and French, advanced in Icelandic and Brazilian Portuguese, intermediate in German, and basic in Mandarin and Spanish.